Opening Night at the National Symposium for Classical Education
Great Hearts Institute February 24, 2023 -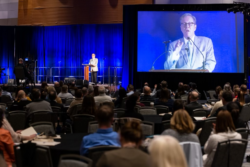 Attendees checked in and began too peruse the booths of the almost 40 sponsors for the event. There was excitement and chatter throughout the room as colleagues and friends reunited. The roar of the room quickly quieted as the Executive Director of Great Hearts Institute, Dr. Robert L. Jackson, welcomed attendees, which included over 275 teachers, 280 school administrators, some 40 board members and executive directors, 70 university scholars, and over 100 master teachers. Jackson introduced the "broad array of content, all to deepen our understanding of classical education" that would be presented over the course of the next three days.
Jay Heiler, Co-founder and CEO of Great Hearts was introduced to address the attendees. He joked that with the increase in attendance of this year's symposium, Classical Education has finally become the latest fad, which was met with laughter throughout the room at this purposefully ironic statement. "We hope that you find it both edifying and rejuvenating," said Heiler.
Dana Gioia, a renowned poet and writer took to the main stage for the opening plenary. He told attendees that he would speak of poetry "in a way that dogs and cats could understand."
Gioia was both humorous and engaging during his talk. "Poetry is one of the central and irreplaceable human arts that is fundamental to education," said Gioia.  He explained that until very recently, poetry had a central place in education at every level, not just literature. Poetry has been gradually removed from curriculum and has become a specialized subject. He explained that poetry has been devalued and used only for the purpose of analysis and criticism. Gioia went on to say that most instructors today feel uncomfortable and inadequate in teaching poetry and assume their students feel the same. It has become a challenging hyperspecialized subject. We have forgotten the human importance of poetry.
Gioia recited the opening lines from A Psalm of Life by Henry Wadsworth Longfellow:
Tell me not, in mournful numbers,
Life is but an empty dream!
For the soul is dead that slumbers,
And things are not what they seem.

Life is real! Life is earnest!
And the grave is not its goal;
Dust thou art, to dust returnest,
Was not spoken of the soul.

Not enjoyment, and not sorrow,
Is our destined end or way;
But to act, that each to-morrow
Find us farther than to-day.

Art is long, and Time is fleeting,
And our hearts, though stout and brave,
Still, like muffled drums, are beating
Funeral marches to the grave.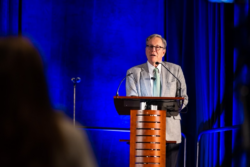 Gioia explained that it was once the most famous poem in the English language. Yet it is widely unknown today. Many view it as too simplistic and unintelligent because there is not a lot to explicate.  But it is an inspirational poem. Gioia believes that by making poetry the object of analysis and critique, we have lost the magic of poetry in our schools.
Gioia encouraged attendees to look at poetry as not only a powerful way of teaching language, but a way to educate emotions and imagination. A way to endow students with the power to holistically articulate and listen.
He closed with a personal recitation of one of his poems, Marriage of Many Years, and admitted that he will be heading home early to celebrate his 43rd wedding anniversary with his wife.
Most of what happens happens beyond words.
The lexicon of lip and fingertip
defies translation into common speech.
I recognize the musk of your dark hair.
It always thrills me, though I can't describe it.
My finger on your thigh does not touch skin—
it touches your skin warming to my touch.
You are a language I have learned by heart.

 This intimate patois will vanish with us,
its only native speakers. Does it matter?
Our tribal chants, our dances round the fire
performed the sorcery we most required.
They bound us in a spell time could not break.
Let the young vaunt their ecstasy. We keep
our tribe of two in sovereign secrecy.
What must be lost was never lost on us.
The floor was opened for a live Q&A session with Gioia and attendees took advantage of this time to ask him about his recent works, his thoughts on contemporary poetry, and strategies for introducing poetry back into education.
The evening concluded with food, live music, and excitement for the next two days. Remember that although seats at the event are filled, you can still have access to every plenary session and lunch panel live, completely free of charge, from the comfort of your own home or office. While it does not give you the same experience as participating in person, this free feature will keep you from missing out on some amazing conversations from some dynamic leaders in the field. Register for online viewing here.
Do you have a story or know of a story that you would like to see featured at Great Hearts?  Please contact jmoore@greatheartsamerica.org.