Day 2 at the National Symposium for Classical Education
Great Hearts Institute February 24, 2023 -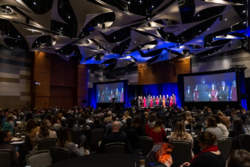 Anticipation continued to build as day 2 of the 2023 National Symposium for Classical Education kicked off. "Last night, Dana Gioia regaled us with the wonders of words – the power of poetry. He reminded us that deep in our primal selves is the need to make poetry. That is to say to use words to speak. And more than to speak, to sing of our deepest felt experiences," said Executive Director of Great Hearts Institute, Dr. Robert L. Jackson as he introduced a vocal performance from Cicero Preparatory Choral.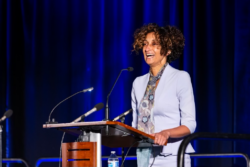 Katharine Birbalsingh, Headmistress and Co-Founder of Michaela Community School (Wembley, London) and Chair of the Social Mobility Commission took to the podium as the morning plenary speaker. Birbalsigngh has been dubbed the "strictest headmistress" for her philosophy on predictability in discipline at her school.  She believes that it is predictability, not chaos, that gives a student room to be truly creative. In her session on "The Cultural Energy of Schools," Birbalsingh opened by stating, "Culture is important because we're not selling shoes." She further explained how selling shoes would be easy compared to the complexities of education. Her boldness to say what others are thinking was refreshing as she challenged attendees.
The day continued with a full and robust schedule of breakout sessions, workshops, and panels. See what attendees said about the day:
"I was blessed with the opportunity to attend the National Symposium for Classical Education for the first time. The symposium has been exceptional and inspirational. I am walking away feeling refreshed and invigorated. I really enjoyed learning more about Socratic discussions that can be applied directly in the K-5 setting. I was also blown away by Katharine Birbalsingh and her plenary presentation, "The Cultural Energy of Schools." This presentation was incredible.  I enjoyed soaking in every moment of this year's symposium."

"I look forward to the symposium every year as it always feeds my soul.  It is invigorating and inspiring to be surrounded by so many leaders in classical education.  I cannot wait to get back to my campus to share what I have learned to help inspire others in the mission of forming hearts and minds in truth and virtue!"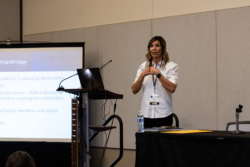 Tomorrow is the last day of the symposium, but you can still have access to Friday's plenary sessions and lunch panel live, completely free of charge, from the comfort of your own home or office. While it does not give you the same experience as the 800 classical educators, school leaders, and families participating in person at the Phoenix Convention Center, this free feature will keep you from missing out on some amazing conversations from some dynamic leaders in the field. Register for online viewing here.
Do you have a story or know of a story that you would like to see featured at Great Hearts?  Please contact jmoore@greatheartsamerica.org.